HRQ United is recruiting staff for a large group of companies from Qatar. Specialists are needed for the new 5-star Brooq Tower hotel and restaurant complex in Doha, Qatar's capital.
Available vacancies:
– Receptionist – $ 700-1000
– Hostess – $ 700
– Waiter / waitress – $ 700-850
– Marketing Manager – $ 1000
– Sales Manager (for Real Estate department) – 700-800 $ + percent of sales
– Sales Manager (for Hotel reservation department) – $ 700-800 + percent of sales
– Fitness trainer – 800-1250 $
– Office administrator / secretary – from $ 700
– Sales manager in the brand furniture store (Fendi, Trussardi, etc.)
– Commodity expert for work in showrooms of branded furniture and household goods (Fendi, Trussardi, etc.)
– Graphic Designer – $ 700-800
– Interior Designer – $ 700-800
– Architect
Requirements:
– high level of English language;
– minimum 1 year of experience in the same field;
– higher education (college / university);
– ability to learn fast, willingness to improve professional knowledge and built a career.
Working conditions:
– salary (rate) from $ 700, depending on the position;
– most vacancies have Bonuses and Tips;
– a good fully-equipped sharing accommodation in a private staff villa (accommodation 2-3 people);
– transportation to/from work in a comfortable automobiles;
– 1 duty meal;
– two-way air-ticket upon completion of 2-year contract;
– official work contract, visa;
– opportunity for development and career growth.
Please call us for more information (Kyiv, Ukraine): +38 (068) 002-50-54
Send your CV in English on: office@hrqunited.com.ua
ABOUT THE COMPLEX
Brook Tower is a fashionable complex, located in the capital of Qatar, Doha.
This is a new 5-star hotel and restaurant complex with luxury residential suites.
It is compromised of 432 units of 1-, 2- and 3-Bedroom apartment.
It also has all-day dining restaurant, ballroom, SPA, Gym, 4 swimming pools, VIP Cigar Lounge, Meeting room, Private library, Kids room, retail and F&B units.
Photos of apartments for staff
ABOUT THE EMPLOYER
One of the biggest Real Estate, Investment & Hospitality companies in the State of Qatar.
In the list of their projects:
– Residential tower in Lusail modern city.
– Commercial Tower in West Bay, Doha, Qatar (20 floors).
– Commercial Tower in West Bay, Doha, Qatar (3 floors).
– Franchises of Cafes & Restaurants of world-know brands.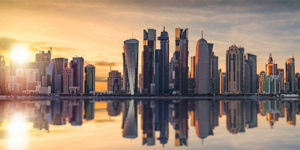 ADVANTAGES TO WORK IN QATAR
– Official employment (issuance of Residence Permit for minimum of 1 year).
– Company provides Medical Card (you can receive a medical assistance in any government medical center for free).
– Upon completion of 1 year of service, you are entitled for additional 21 days of salary payment (End of Services Benefits). Upon completion of 5 years, it will increase to 28 days/year.
– 21 day vacation paid leave upon completion of 12 months of employment.
ABOUT QATAR
Qatar is the richest country in the world, with the highest level of GDP.
Qatar is the country in Middle East, surrounded by waters of Arabian Gulf, where is Endless Summer.
It is developing itself as a Tourist Spot, in preparation to FIFA World Cup 2022.
Qatar has been recognized as one of the safest, fast-developing countries in the world.
Don't lose your chance to make your great career in Qatar, the country of open opportunities!